Anlabeier Tankless Heater/ Under Sink Heater
Salty Water Under Sink Heater/ Instant Shower
Fitted with a heavy-duty, shielded copper coil that works with all water types including extremely salty water/  borehole water/ hard water.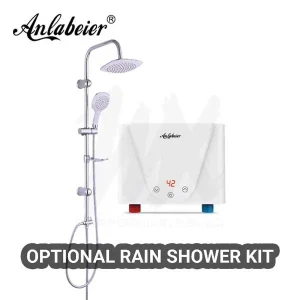 Shock Protection
The heater has an earth connection to safeguard against electric shock.
The heater body is also made of strong and durable nylon fibreglass that is non-conductive for further insulation against electric shock.
Power-off Memory
The tankless heater will remember the last temperature you set so that you don't have to set it again the next time you use it.
Dry Heat Protection
The heater automatically cuts off power if left on with no water inside, for the safety and durability of the heater.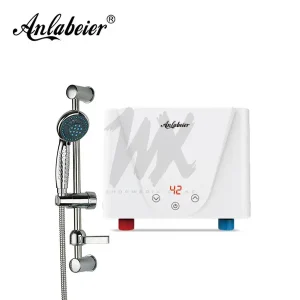 Touch Panel Control
Tap up or down to adjust the water temperature according to your preference.
Wide-use applications at home, restaurants, hotels, kitchens, bathrooms, schools, hair salons, hospitals, etc.
Buy the Anlabeier Tankless Heater/ Under Sink Heater online at Shopmerix and have deliveries made to your doorstep anywhere in Kenya on the same day.
| | |
| --- | --- |
| BRAND | |
| MODEL | W55 |
| POWER (Watts) | 5.5kW Max |
| COLOUR | White |
| ELEMENT TYPE | Heavy Duty Coil (Shielded Copper Coil) – For EXTREMELY Salty/ Borehole/ Normal Water |
| HEATER TYPE | Instant Tankless Heater |
| INSTALLATION TYPE | All Angles |
| OPERATING PRESSURE | Min: 2 metres, Max: 60 metres |
| SAFETY | Shock Protection – Earth Wire + ELCB, Dry Heat Protection, Overheating Protection |
| TEMPERATURE CONTROL | Electronic – Touch Panel |
| WARRANTY | 12 Months (Terms & Conditions Apply) |