Intelligent Rechargeable LED Emergency Bulb
The intelligent rechargeable led emergency bulb supplies about 2 -3 hours of battery backup during a power outage.
It works like a normal light bulb and fits a standard fixture, and works during power outages as well.
Bigger model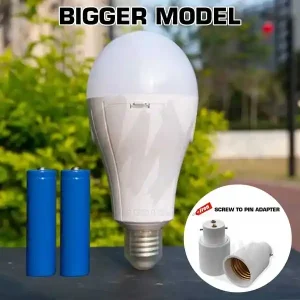 The bigger model comes in either 15 watts or 16 watts (randomly picked depending on availability).
It's brighter and comes with two, big, long-lasting 18650 lithium-ion batteries.
The batteries can be replaced, unlike in other smaller bulbs.
The removable batteries provide backup power in case of a blackout.
The bulb also works normally even when used without batteries.
Operating instructions
The bulb is operated like a normal household bulb and can be turned ON/ OFF using the light switch.
The bulb's internal battery will be charged whenever the light switch is set to ON.
During a power failure, it will become an emergency bulb and will switch on automatically as long as the light switch is set to ON.
If the light switch is OFF, the user must turn on the bulb by using the light switch when the light is required.
When the power goes out, still works like a normal light bulb providing light.
No frantic search for the flashlight or batteries.
The bulb consumes very low power resulting in low power bills.
Buy the Intelligent Rechargeable LED Emergency Bulb online at Shopmerix and have deliveries made to your doorstep anywhere in Kenya on the same day.
| | |
| --- | --- |
| POWER (Watts) | 5W, 7W, 9W, Bigger Model – 15/ 16W |